Our services
For private individuals, the purchase or sale of a property is usually an extraordinary legal transaction with great financial significance. Risks and ill-considered actions should therefore be avoided. In order to be successful nevertheless without great expenditure of time and money, a serious and reliable partner is usually indispensable.
What we attach particular importance to in our services:
People are always the center of attention
Professionalism in all areas
Awareness of cause and effect
All-round customer service through direct contact person
Creation of added value for our customers
Receiving recommendations from our customers
Why us
We relieve your time. From the beginning of our activity you no longer have to actively take care of the sale of your property yourself and you have more time for the things in your life that move you forward.
Sales Phases
Preparation
Viewing your property and getting to know you personally
In order for you to get to know us and get a first impression of our working methods, we will first visit you in your property or at your home. If the meeting takes place in the property for sale, we also get an impression of the construction method, quality of construction, location, equipment and layout of your property. If you wish, we can advise you on how to determine the offer price for your property.
Market value determination and price consulting
On the basis of comparative and empirical values, we determine the market value of your property for you. To support you in determining the price, we also apply recognized valuation methods (determination of the material and capitalized earnings value, ROI analysis). In some cases, we also make use of the possibility of obtaining information from the purchase price collection of the expert committee.
Object registration
In order to be able to recognize sales-inhibiting properties of the real estate at an early stage and to be prepared for possible questions from interested parties, we make every effort to compile the property documents as completely as possible. Missing documents will be procured by us if possible. This procedure enables us to procure financing and prepare the notarization date in a timely manner if the parties to the contract of sale agree. We also try to collect information that is not found in the property documents by means of information from the owner or third parties. To illustrate the property, we take professional photographs, revise or prepare the floor plans of the property and create 360° viewings.
Object optimization
After our inspection of the property and after reviewing the property documents, we check which factors have a significant influence on the sale. In order that sales-inhibiting factors can be eliminated before we begin our sales efforts, we give recommendations for optimization. If possible, we support you directly in the possible optimizations. This includes, for example, implementing rent increases, improving the appearance of the property with the support of suitable craftsmen or assisting in obtaining the necessary permits.
Here is an example that shows well how valuable object optimization can be.
Creation of meaningful exposés
For the sale of your property, we create a meaningful exposé with as many pictures, property and location information as possible. Here are a few sample exposés.
Preparation and completion of object documents
If some of the documents required for the sale are missing, we will procure them if possible (e.g. building permits) or prepare them (e.g. a living space calculation). For each property, we create a digital property file so that the documents for financing advice and for preparing the notarization date can be provided quickly and easily.
Buyer or tenant search
Active marketing of your real estate
We advertise your property in numerous internet portals. In addition to this, we also use other marketing measures to inform specific target groups such as the neighborhood or even specific professional groups. If promising, we also advertise in print media or attach an advertising sign to the property.
Support of the interested parties
The inquiries of interested parties are answered by us promptly. The viewing appointments with interested parties are then carried out by us in coordination with the owner or the tenant. Any questions from interested parties will be answered by us either directly during the viewing or afterwards during the follow-up of the appointment. If desired, we can also take over the conduct of price negotiations.
Support with the procurement of financing
In vielen Fällen besteht die Herausforderung beim Verkauf einer Immobilie nicht nur darin, einen passenden Käufer zu finden. Vielmehr ist es für den Käufer oft schwierig, einen passenden Finanzierungspartner zu finden, der den Immobilienkauf begleitet. Wir unterstützen den Käufer auf Wunsch bei der Finanzierungsbeschaffung und dadurch gleichzeitig auch den Verkäufer beim Verkauf seiner Immobilie.
Regular reporting
At regular intervals of one to two weeks, the client receives feedback from us about news and the current processing status.
Final phase
Informing about the procedure
The parties to the sales contract will be informed by us about the timing and content of the preparations for the sales contract.
Preparation of the purchase or lease agreement
The purchase contract data is recorded by us for forwarding to the notary's office. In consultation with the parties to the purchase contract, we request a draft purchase contract from the notary's office. Any questions are clarified, if necessary in cooperation with the notary. Subsequently, after obtaining a confirmation of financing, a notarization date is arranged.
Accompaniment of the notarization date
Assistance with the object transfer
After-Sale
Even after the sale of the property, we support the parties to the contract of sale with any questions they may have. We are also happy to support you in unpleasant issues, such as the execution of a personal use termination or rent cancellation negotiations with tenants
Creation of exposées
Example floor plan
Sellers and prospective customers of a real estate profit equally from a meaningful sketch, since if necessary unnecessary inspection dates can be avoided.
For the visualization of your real estate, we therefore have meaningful floor plans created or existing floor plans revised and supplemented. When creating the floor plan, we try to reproduce the property as detailed as possible and, for example, to show the fixtures in the bathroom and kitchen as they are present in the property.
We assume the costs for the floor plan preparation.
Basement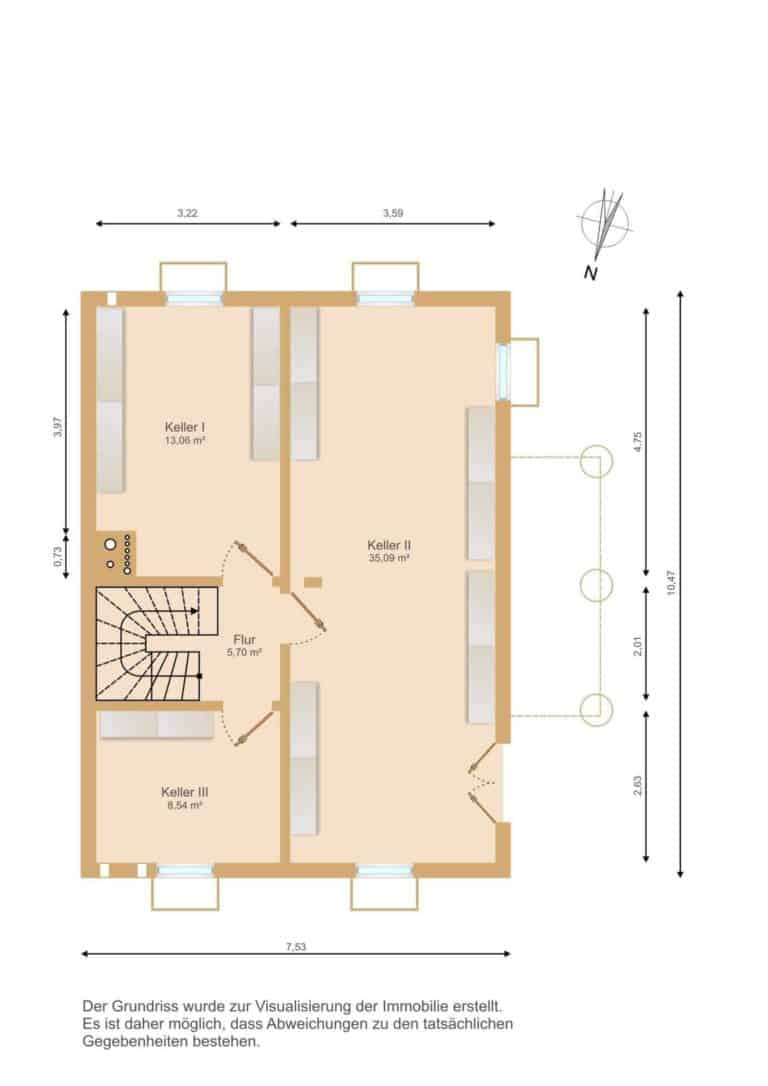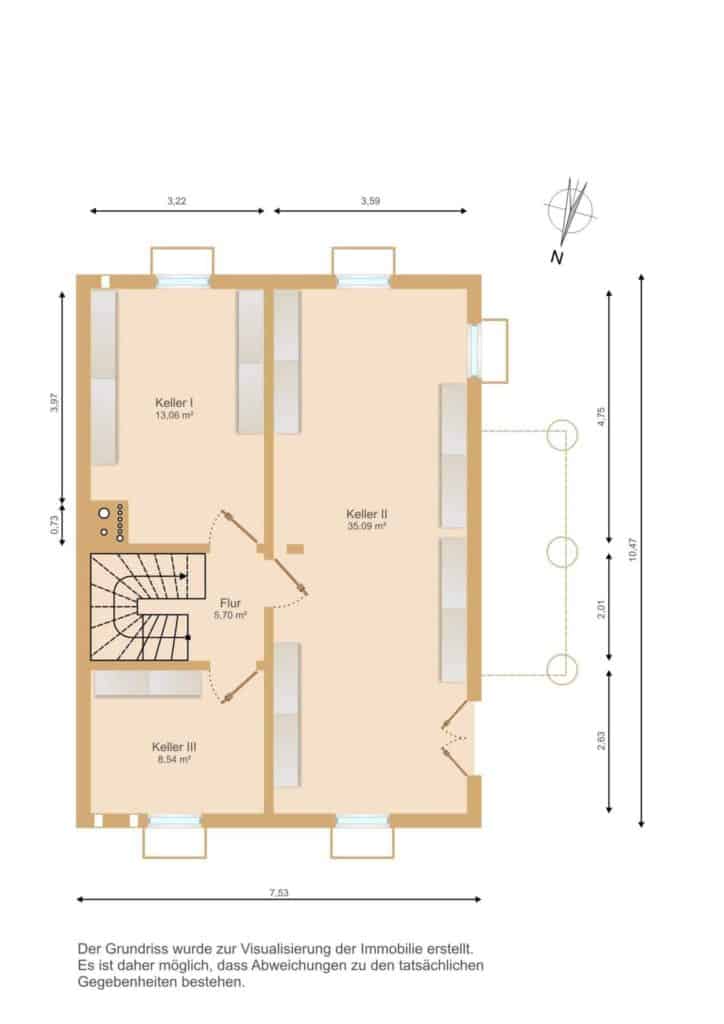 First floor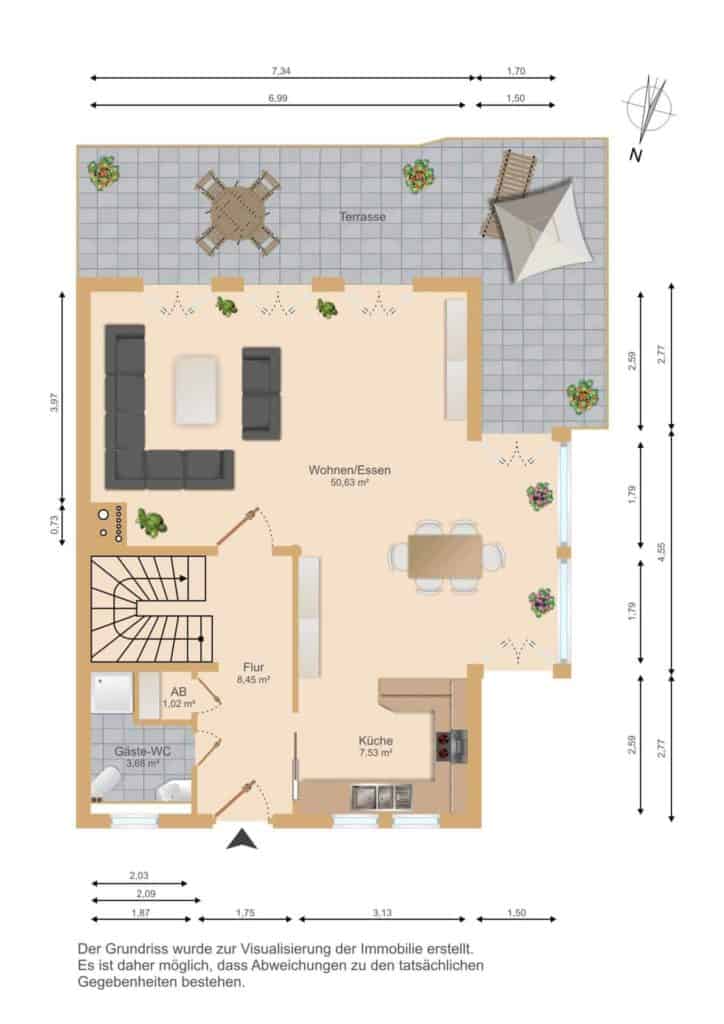 Upper floor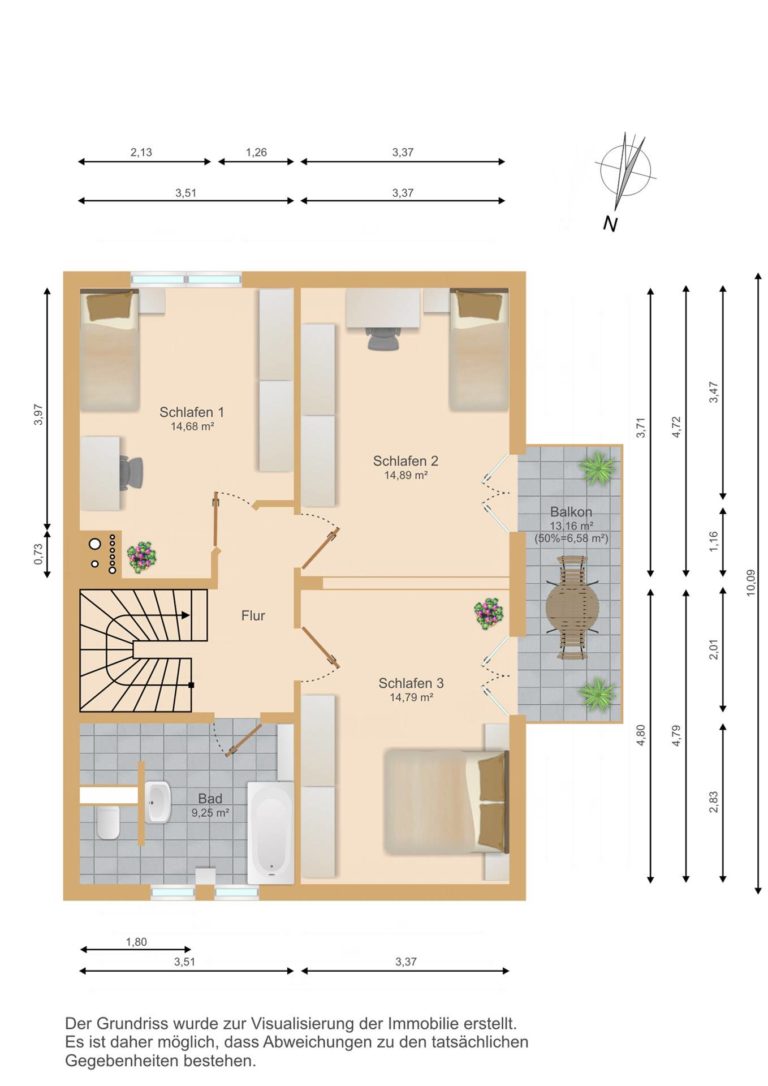 Top floor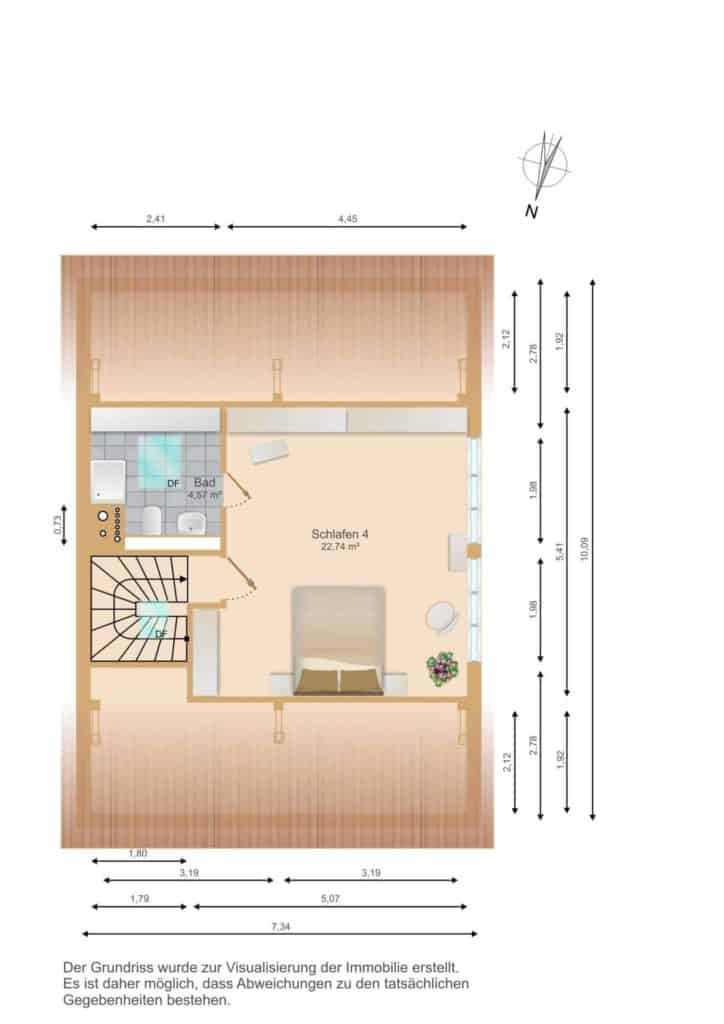 Free market value determination
The cornerstone for the sale of your property is the determination of a market-driven offer price. If the offer price is too high, the demand necessary for the sale of your property will not be met. On the other hand, if the offer price is too low, you will lose part of your assets.
In order to avoid slowly approaching the fair market price for your property after the start of the marketing activities, you should obtain detailed information about the current market situation before the start of marketing. We would be happy to support you in this process by determining the market value of your property in Berlin, Potsdam and the surrounding area free of charge.
Your advantage:
You avoid a sale below market value and thus also an unnecessarily long sales period.
Our advantage:
We can get to know you and your property and thus get the opportunity to offer your property to interested parties with whom we are already in contact.
Prepayment Compensation Calculator
Debit interest calculator
Offer comparison calculator
Full redemption calculator
Rental / purchase calculator
Notary and land register cost calculator
360° real estate viewing
The search for a suitable property is usually just as time-consuming for the prospective buyer as the sale of a property is for the seller. As a real estate agent for Berlin, Potsdam and the surrounding area, we try to keep the time required for all parties involved as low as possible by presenting the properties we offer as meaningful as possible. This allows you to weigh up before a time-consuming viewing appointment whether it can be promising for you. In addition to a detailed exposé, we therefore offer you, if possible, a virtual tour of the property you are interested in (360° video tour). Of course, this service is not intended to replace an on-site viewing appointment, but if possible it should save you from a hopeless and yet time-consuming viewing appointment.
Home Staging
Home staging is currently on everyone's lips when it comes to selling real estate. A good real estate agent should offer home staging services in his repertoire. In this article we would like to tell you a little bit about the advantages of Home Staging and our work. According to Wikipedia, surveys among U.S. real estate agents have shown that home staging can reduce the time it takes to sell a property by one-third to one-half, and can even result in a 10 to 15% higher sales price.
Advice on heritable building rights
The topic of heritable building rights can be relevant when buying or selling a property. If you have any questions about heritable building rights, we are happy to help you. With strong partners at our side, we are your contact for all questions. There is a lot to consider when it comes to heritable building rights. Here you can learn more about the topic of ground lease.